These perennial vines will wind around your heart and make you fall in love! Climbing over fences, trellises, and other garden structures, or filling in a shady area as ground cover, you'll find the perfect vine for the job.

(Updated for 2023)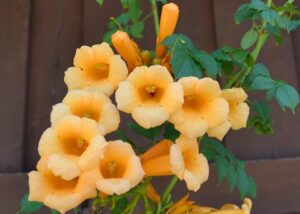 NOTE: This isn't a list of what's currently in stock!
All will become available as the season progresses, call or check the online shop for current availability.
---
Akebia Quinata
Ampelopsis Brevipedunculata 'Elegans'
Campsis 'Flamenco'
Campsis Radicans
Celastrus Scandens 'Diana' (Bittersweet Female)
Celastrus Scandens 'Hercules' (Bittersweet Male)
Clematis 'Countess Love Lace'
Clematis 'Daniel Deronda'
Clematis 'Ernest Markham"
Clematis 'Golden Harvest'
Clematis 'H. F. Young'
Clematis 'Jackmanii
Clematis 'Nelly Moser'
Clematis 'Piilu'
Clematis 'Rouge Cardinal'
Clematis 'Sweet Autumn'
Clematis 'The President'
Clematis H.F. Young
Clematis Rooguchi integrifolia
Clematis Vancouver Morning Mist
Clematis Vancouver Sea Breeze
Lonicera Japonica 'Halliana'
Parthenocissus Quinquefolia 'Engelmannii' (Virginia Creeper)
Parthenocissus Tricuspidata 'Veitchii' (Boston Ivy)
Polygonum Aubertii (Silver Lace Vine)
Schizophragma Hydrangeoides 'Moonlight'
Schizophragma Hydrangeoides 'Roseum'
Wisteria brachybotrys 'Kapiteyn Fuji'
Wisteria brachybotrys 'Okayama'
Wisteria floribunda 'Macrobotrys'
Wisteria frutescens 'Amethyst Falls'
Wisteria macrostachya 'Blue Moon'
Wisteria sinensis 'Prolific'
---
Check the online store for stock updates and to place an online order:
Perennial Vines
(We are currently closed for the winter, re-opening in person and online in April)