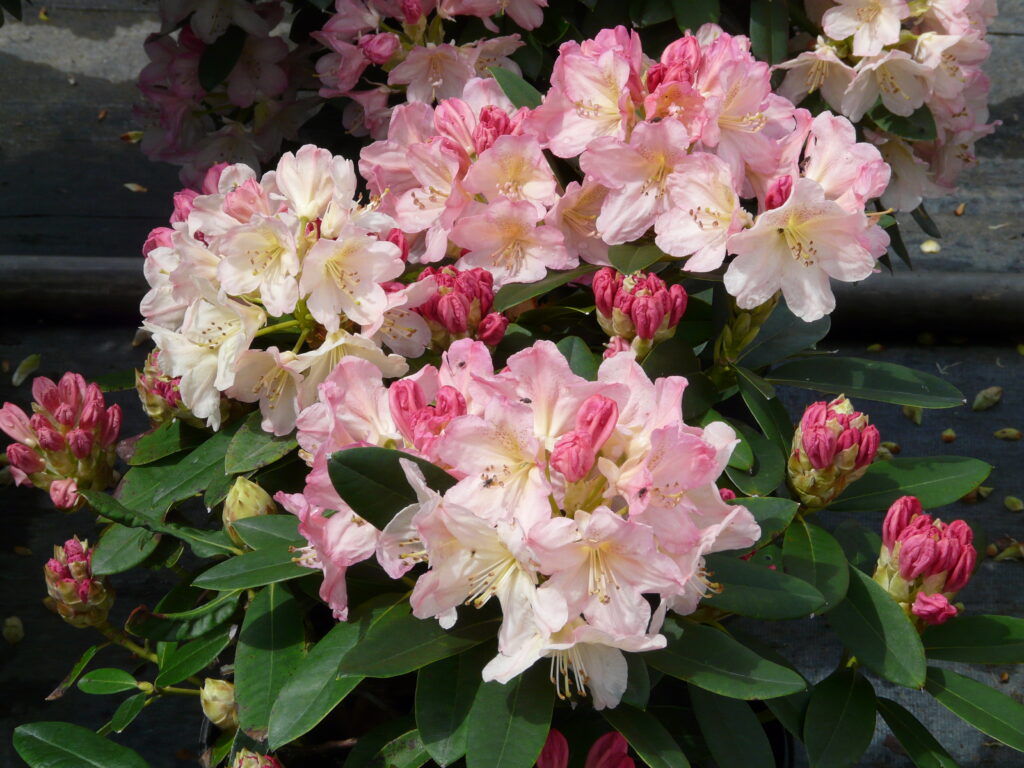 These lovely shrubs retain their foliage year round and are a staple of any garden. Explore our broadleaf evergreens: rhododendrons, boxwoods, holly, and more!
(Updated for 2023)
NOTE: This isn't a list of what's currently in stock!
All will become available as the season progresses, call or check the online shop for current availability.
---
Buxus 'Green Gem'
Buxus 'Green Mountain'
Buxus 'Green Mountain' Pyramid
Buxus 'Green Velvet'
Calluna vulgaris 'Alicia'
Calluna vulgaris 'Athene'
Calluna vulgaris 'Firefly'
Calluna vulgaris 'Hilda'
Calluna vulgaris 'Katja'
Calluna vulgaris 'Silver Knight'
Erica 'Kramers red'
Erica car. 'Isabell'
Euonymus 'Emerald Gaiety'
Euonymus 'Emerald n' Gold'
Euonymus 'Gold Splash'
Euonymus 'Moon shadow'
Ilex x meserveae 'Berri Magic' (Combo)
Ilex x meserveae 'Blue Prince'
Ilex x meserveae 'Blue Princess'
Kalmia 'Raspberry Glow' (Mountain laurel)
Pieris 'Katsura'
Pieris 'Little Heath'
Pieris 'Mountain Fire'
Pieris japonica 'Cavatine'
Rhodo 'Album'
Rhodo 'Checkmate'
Rhodo 'Compact PJM'
Rhodo 'Cornell Pink'
Rhodo 'Cunningham's White'
Rhodo 'Dark Lord'
Rhodo 'Elite PJM'
Rhodo 'English Roseum'
Rhodo 'Goldprinz'
Rhodo 'Helsinki University'
Rhodo 'Holden'
Rhodo 'Hoopla'
Rhodo 'Ken Janeck'
Rhodo 'Landmark PJM'
Rhodo 'Lee's Dark Purple'
Rhodo 'Nova Zembla'
Rhodo 'Percy Wiseman'
Rhodo 'Polarnacht' 'Polar Night'
Rhodo 'Purpureum Elegans'
Rhodo 'Ramapo'
Rhodo 'Rimini"
Rhodo 'Wojnars Purple'
Yucca filamentosa
Yucca filamentosa 'Bright Edge'
Yucca ilamentosa 'Colour Guard'
Yucca X 'Silver Anniversary'
Check the online store for stock updates and to place an online order:
Broadleaf Evergreens
(We are currently closed for the winter, re-opening in person and online in April)