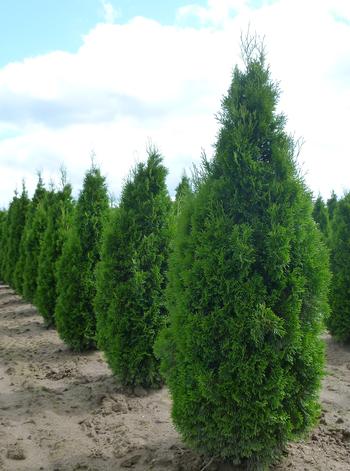 These trees and shrubs are a staple in landscaping, come find the best conifers at Glad Gardens! Most are evergreen, bringing joy and beauty even in winter.
(Updated for 2023)
NOTE: Not everything listed is currently in stock!
This is a list of all plants for the year.
All will be available as the season progresses. Call or check online store to confirm stock.
---
Chamaecyparis Nootkatensis 'Glauca Pendula'
Chamaecyparis Nootkatensis 'Glauca'
Chamaecyparis Obtusa 'Graciosa'
Chamaecyparis Obtusa 'Kosteri' Fast Form
Chamaecyparis Obtusa 'Mariesii'
Chamaecyparis Obtusa 'Split Rock'
Chamaecyparis Obtusa 'Templehof'
Chamaecyparis Pisifera 'Cream Ball'
Chamaecyparis Pisifera 'Golden Pincushion'
Chamaecyparis Pisifera Filifera 'Aurea Nana'
Chamaecyparis Pisifera Filifera 'Sungold'
Chamaecyparis Pisifera squarrosa 'Baby Blue'
Juniperus 'Daub's Frosted'
Juniperus 'Mint Julip'
Juniperus Chin 'Blue Point'
Juniperus Chin 'Saybrook Gold'
Juniperus Chin Pfitx 'Gold Lace'
Juniperus Horizontalis 'Hughes'
Juniperus Horizontalis 'Icee Blue'
Juniperus Horizontalis 'Pancake'
Juniperus Horizontalis 'Wiltonii'
Juniperus Procumbens 'Nana'
Juniperus Sabina 'Calgary Carpet'
Juniperus squamata 'Blue Star'
Larix Kaempferi 'Dwarf Blue'
Larix x eurolepis Varied Directions
Metasequoia Glyptostroboides
Picea Abies
Picea Abies 'Little Gem'
Picea Abies Nidiformis
Picea Abies Pendula
Picea Bicolour Howell's Tigertail
Picea Glauca
Picea Glauca 'Pendula'
Picea Glauca 'Rainbows End'
Picea Glauca Conica
Picea Omorika Pimoko
Picea Pungens 'Baby Blue'
Picea Pungens 'Cecilia'
Picea Pungens 'Fat Albert'
Picea Pungens 'Glauca Glabosa'
Picea Pungens 'Iseli Foxtail'
Pinus Contorta Chief Joseph
Pinus Flexilis 'Extra Blue'
Pinus Mugo Pumilio (Dwarf Mugo Pine)
Sciadopitys verticillata
Taxus Cuspidata 'Dwarf Bright Gold'
Taxus Cuspidata 'Nana Aurescens' (Dwarf Gold?)
Taxus Media 'Densiformis' (Dense Yew)
Taxus Media 'Everlow'
Taxus Media 'Hicksii' (Hicks Yew)
Taxus media Ershzam Erie Shores
Thuja Occidentalis 'American Pillar"Full Speed a Hedge'
Thuja Occidentalis 'Anna's Magic Ball'
Thuja Occidentalis 'Emerald'(Emerald Cedar)
Thuja Occidentalis 'Filips Magic Moment'
Thuja Occidentalis 'Holmstrupii'
Thuja Occidentalis 'Janed Gold'
Thuja Occidentalis 'Little Giant'
Thuja Occidentalis 'Nigra' (Black Cedar)
Thuja Plicata 'Whipcord'
Tsuga Canadensis
Tsuga Canadensis 'Jeddeloh'
Check the online store for stock updates and to place an online order: Conifers
(We are currently closed for the winter, re-opening in person and online in April)