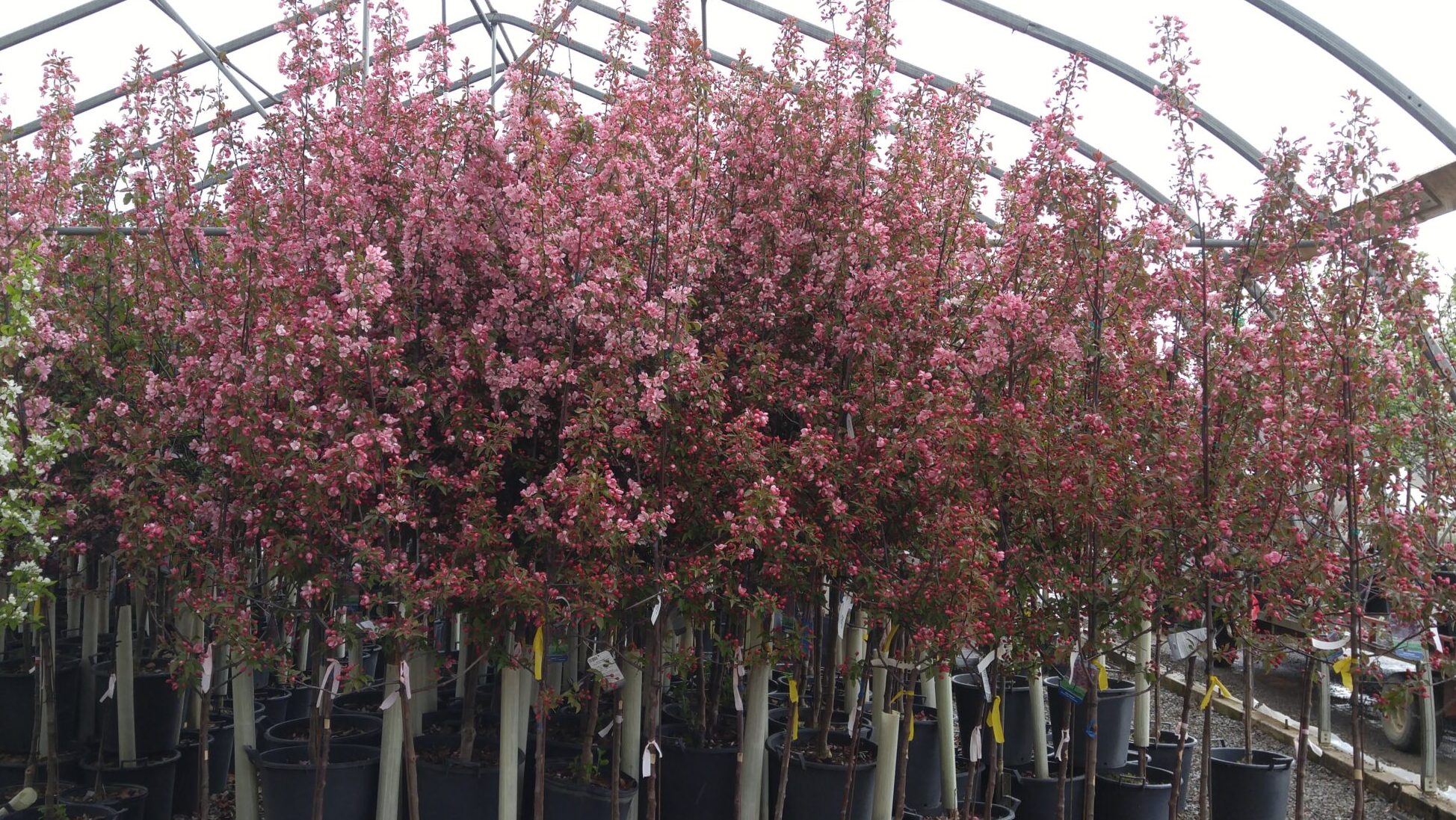 Trees are fundamental in landscaping and gardening – bringing shade and wind protection, structure and privacy, seasonal and ornamental interest, and much, much more!
(Updated for 2023)
NOTE: This isn't a list of what's currently in stock!
All will become available as the season progresses, call or check the online shop for current availability.
Acer Griseum (Paperbark Maple)
Acer Platanoides 'Drummondii' (Variegated)
Acer Platanoides 'Royal Red'
Acer Rubrum
Acer Rubrum Franksred 'Red Sunset'
Acer Saccharum Autumn Fest
Carya cordiformis
Catalpa Speciosa
Cercidiphyllum japonica (Katsura)
Cladrastis kentukea lutea
Cornus Cloud Nine
Cornus Florida 'Cherokee Brave'
Cornus kousa 'Chinensis'
Cornus Kousa 'Chinese Dogwood'
Cornus kousa 'Radiant Rose' (Pink flowering dogwood)
Cornus Kousa 'Satomi' (Pink Flowering Dogwood)
Cornus kousa 'Summer Gold'
Cornus kousa 'Venus'
Cornus mas
Cornus x Stellar Pink
Fagus sylvatica 'Dawyck gold'
Fagus Sylvatica 'Purple Fountain'
Fagus Sylvatica 'Red Obelisk'
Ginkgo Biloba
Ginkgo Biloba 'California Sunset'
Ginkgo biloba 'Korinek'
Ginkgo Biloba 'Umbrella'
Gleditsia triacanthos 'Sunburst' (Honey locust)
Gymnocladus Dioicus Kentucky Coffee Tree
Heptacodium 'Temple Of Bloom'
Juglans cinerea (Butternut)
Juglans regia (English Walnut)
Liriodendron Tulipifera (Tulip Tree)
Magnolia 'Alex'
Magnolia 'Alexander'
Magnolia 'Alexandria'
Magnolia 'Betty'
Magnolia 'Blushing Belle'
Magnolia 'Butterflies'
Magnolia 'Cleopatra'
Magnolia 'Cloud Nine'
Magnolia 'Daybreak'
Magnolia 'Dr Merrill'
Magnolia 'Galaxy'
Magnolia 'Genie'
Magnolia 'Jane Platt'
Magnolia 'Judy Zuk'
Magnolia 'Leonard Messell'
Magnolia 'Moonglow'
Magnolia 'Nigra'
Magnolia 'Ricki'
Magnolia 'Royal Star'
Magnolia 'Saucer'
Magnolia 'Sieboldii'
Magnolia 'Soulangeana'
Magnolia 'Sunsation'
Magnolia 'Susan'
Magnolia 'Vulcan'
Magnolia 'Yellow Bird'
Magnolia liliflora 'Nigra'
Malus 'Brandywine'
Malus 'Harvest Gold'
Malus 'Honey Crisp'
Malus 'Indian Magic'
Malus 'Louisa Weeping'
Malus 'Makamik'
Malus 'Prairie Fire'
Malus 'Profusion'
Malus 'Red Jade'
Malus 'Robinson'
Malus 'Royal Raindrops'
Malus 'Sutyzam"Sugar Tyme'
Malus 'Tina'
Oxydendrum Arboretum
Paulownia tomentosa
Platanus occidentalis (American Sycamore)
Prunus serrulata 'Kiku-shidari (weeping cherry)
Prunus Serrulata 'Kwanzan' (Flowering Cherry)
Prunus subhirtella 'Pendula Plena Rosea'
Stewartia
Syringa Reticulata 'Ivory Silk' (Japanese Tree Lilac)
Tilia 'Glenleven' (Little Leaf Linden)
Tilia americana (Basswood)
Ulmus propinqua 'Emerald Sunshine'
Trees Standardized
Caragana arborescens 'Pendula' std
Caragana arborescens 'Walkers' std
Cotoneaster adpressus preacox 'Early'
Euonymous alatus 'Compacta' std
Euonymus fortunei 'Lemon Lime' std
Ginkgo Mariken std
Hydrangea panic. 'Vanilla Strawberry' std
Morus Alba 'Pendula' Fruiting
Morus Alba 'Pendula' Fruitless
Salix nishiki std
Weigela 'Wine and Roses' std
---
Check the online store for stock updates and to place an online order:
Trees, Trees Standardized
(We are currently closed for the winter, re-opening in person and online in April)