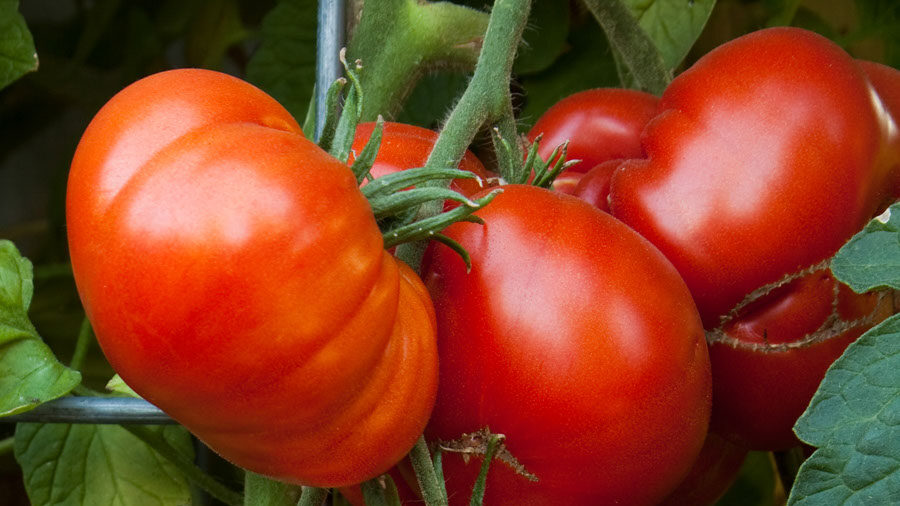 Grow your own juicy, flavourful tomatoes this season with our selection of tomato transplants. Come checkout heirloom, hybrid, cherry tomatoes and more!

This is our updated list for this season.
NOTE: Not everything listed is currently in stock!
But all will become available as the season progresses. Please check the Online store for currently available items.
Tomatillo Ground Cherry Aunt Molly's
Tomatillo Tomayo
Tomato Acadian Cherry
Tomato Amethyst Cream Cherry
Tomato Amish Paste
Tomato Banana Legs
Tomato Basket Vee
Tomato Beauty King
Tomato Better Boy
Tomato Big Beef
Tomato Big Zac
Tomato Black Beauty
Tomato Black Cherry
Tomato Black Krim
Tomato Black Strawberry Cherry
Tomato Blueberries Cherry
Tomato Blush
Tomato Bob Cat
Tomato Boxcar Willie
Tomato Brad's Atomic Grape Cherry
Tomato Brandywine
Tomato Canary Yellow Dwarf Cherry
Tomato Cherokee Purple
Tomato Defiant
Tomato Early Girl
Tomato Golden Cherry
Tomato Green Sausage
Tomato Green Zebra
Tomato Hungarian Oxheart
Tomato Indigo Fireball Cherry
Tomato Indigo Rose
Tomato Jasper Cherry
Tomato Juliet

Tomato Legend
Tomato Lemon Boy
Tomato Lemon Ice Dwarf
Tomato Manitoba
Tomato Micro Tom Dwarf Cherry
Tomato Mountain Magic Cherry
Tomato Mountain Merit
Tomato New For Field
Tomato Old Brooks
Tomato Opalka
Tomato Orange Hat Dwarf Cherry
Tomato Patio
Tomato Pink Berkeley Tie Dye
Tomato Rapunzel Cherry
Tomato Red Robin Dwarf Cherry
Tomato Regal Plum
Tomato Roma
Tomato San Marzano
Tomato Scarlet Heart Dwarf
Tomato Scotia
Tomato Silvery Fir
Tomato Snow Fairy Dwarf
Tomato Stupice
Tomato Sub Arctic Maxi
Tomato Sugary Cherry
Tomato Sungold Cherry
Tomato Supersweet 100 Cherry
Tomato Sweet Million Cherry
Tomato Sweet Pea Currant Cherry
Tomato Tiny Tim Cherry
Tomato Tribe's Tobique free
Tomato Tumbling Tom Red Cherry
Tomato Yellow Pear Cherry